The 26th IEEE International Symposium on Robot and Human Interactive Communication, RO-MAN 2017, will be held in Lisbon, Portugal, from 28 to 31 of August 2017. This symposium is a leading forum where state-of-the-art innovative results, the latest developments as well as future perspectives relating to robot and human interactive communication are presented and discussed. The conference covers a wide range of topics related to Robot and Human Interactive Communication, involving theories, methodologies, technologies, empirical and experimental studies. Papers related to the study of the robotic technology, psychology, cognitive science, artificial intelligence, human factors, interaction-based robot design and other topics related to human-robot interaction are welcome.
Further information at: http://www.ieee-ras.org/conferences-workshops/financially-co-sponsored/ro-man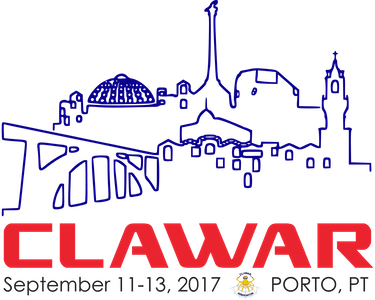 The 20th International Conference on Climbing and Walking Robots and Support Technologies for Mobile Machines (CLAWAR 2017), will be held within the premises of the School of Engineering of the Porto Polytechnic, Portugal, during 11 – 13 September 2017, continuing a series of successful events all over the world. CLAWAR 2017 will feature technical and social programs. The technical program will comprise plenary, regular and special/invited sessions. All articles submitted for inclusion in the conference will be peer reviewed before acceptance. It is envisaged that all accepted papers will appear in the conference proceedings, to be published by World Scientific Publishing Company, as well as on CD/flash drive, subject to registration of at least one author for presenting the work. A selection of presented papers will also be recommended for possible publication in reputable international journals.
Further information at: https://clawar.org/clawar2017/
Goals and Audience:
- Development of a low cost energy harvesting systems for low energy consumption mobile robot platforms, in which several energy harvesting solutions can be tested. One of the main goals of this proposal is to introduce robotics students to energy harvesting and energy management techniques by supplying them with a very low cost robotics platform that they can build themselves; 
- Development of a simple mobile platform, with low energy consumption, low power wireless communication capabilities (using Bluetooth LE for instance) and sensor integration; 
- The platform is intended to be used by undergraduate students with some level of programming and electronics skills and to validate the energy harvesting modules.
- A software library to control the robot and get information from it was developed and published on mbed online platform. Library functions documentation was also published on mbed.
Further information at:
Mobile Robot (SRRM) - Quick Guide

The Institute of Systems and Robotics is co-organizing a technical track on Intelligent Robotics and Multi-Agent Systems (IRMAS) at the 32nd ACM Symposium on Applied Computing (SAC 2017). The SAC has been a primary gathering forum for applied computer scientists, computer engineers, software engineers, and application developers from around the world. SAC 2017 is sponsored by the ACM Special Interest Group on Applied Computing (SIGAPP), and will be held in Marrakech, Morocco, on April 2017. 
Further information at: http://ap.isr.uc.pt/events/sac2017-irmas/